Store - As you intend to deploy
Break down the material into to modules, which when combined, become mission specific load plans. Seal the packed cages ready to go in a flexible layout, which can be adjusted on the fly.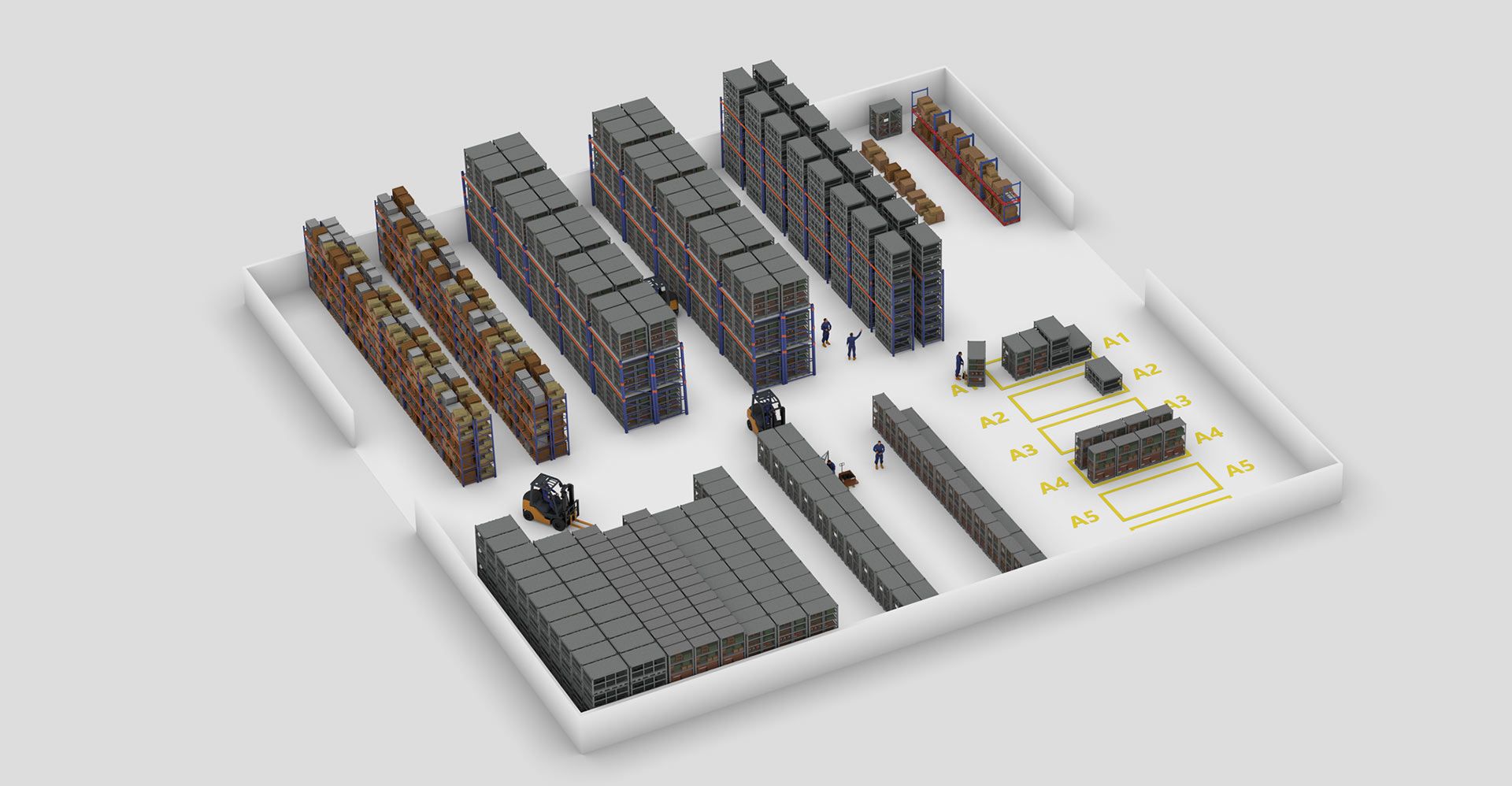 Most equipment is delivered on pallets and in cardboard boxes which are not suiteable for deployment.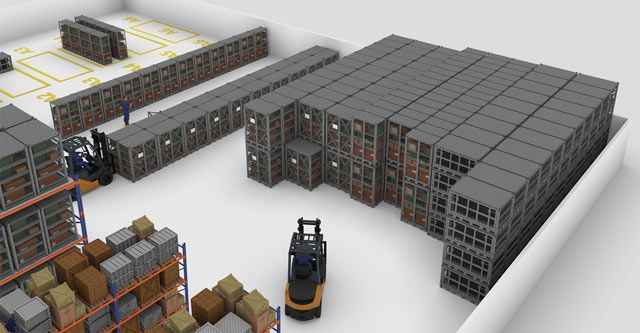 General Modules
In this area all cages in one column has the same content, and can be pulled from the front as they are loaded out.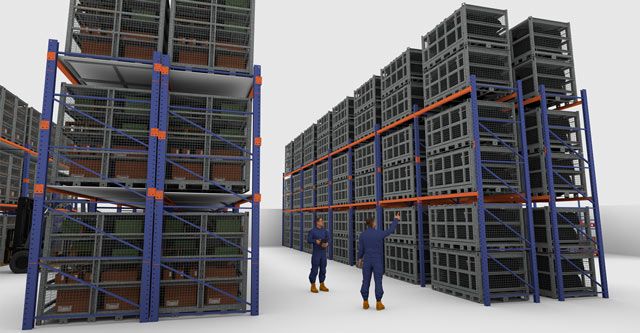 Mission Specific Modules
Storage of material in predefined modules, which enables rapid configuration of mission specific load plans.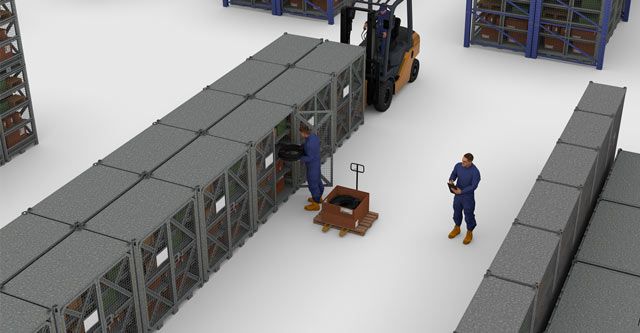 INSPECTION AND RECONSTITUTION
Material and kit modules which have been deployed are inspected, cleaned and reconstituted to 10-20 standard and in some cases reconfigured. When ready, the cages are sealed and stored in the ready-to-go area.
Move
Plan how many of each pre-packed module are required for the mission. Configuration of modules dictates which cages to prepare and the necessary lift assets to deploy. Stage the cages ready to be loaded directly into containers or flat racks and move using any military lift asset - land, sea or air.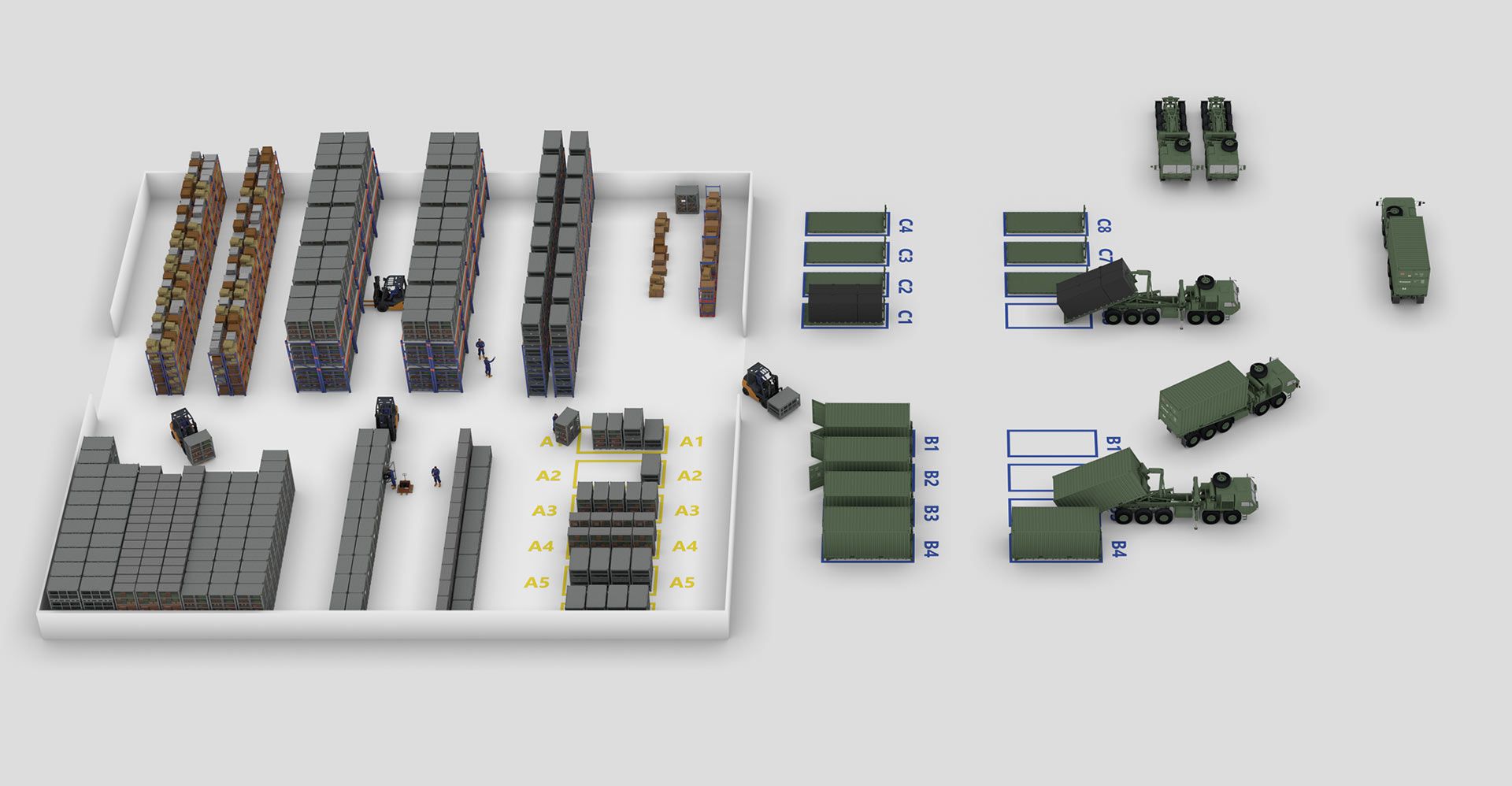 LEAN Deployment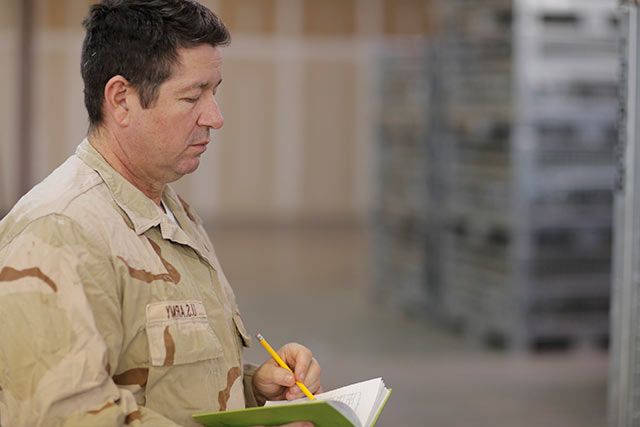 Plan
Identify which modules are needed and if they need to be reconfigured for the mission. Count up the cages and the count translates into needed transportation assets.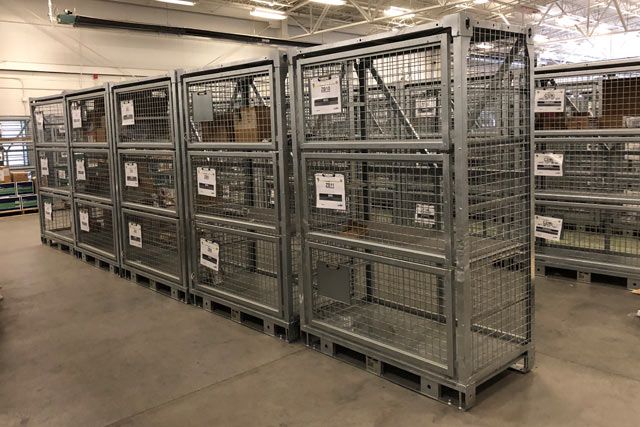 Stage
Prepare the needed cages inside and verify that they will fit on the intended platform. Load the cages into the container in reverse order of the set-up procedure.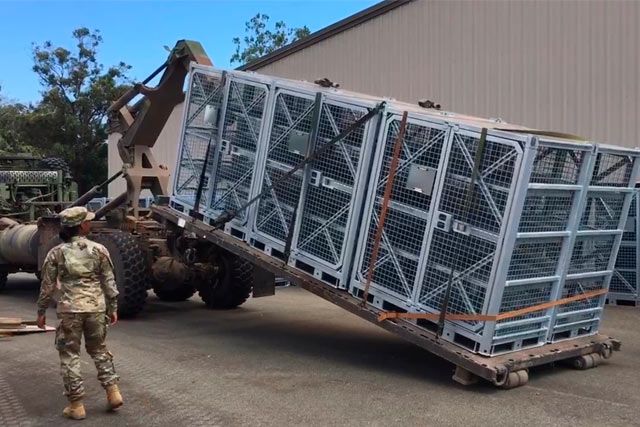 Move
SHARKCAGE is designed for land - sea - air transport for full flexibility along the value chain.
We do not have to repack depending on the mission, we just choose the cages we need and load out.
Set-up and Break Down
Optimize the material flow during set-up and reduce break down by packing the containers according to set-up procedure so that the first cage pulled out of the container contains the equipment going up first. Moving the equipment out of the containers and close to set-up location ensures no time is wasted searching for or carrying equipment.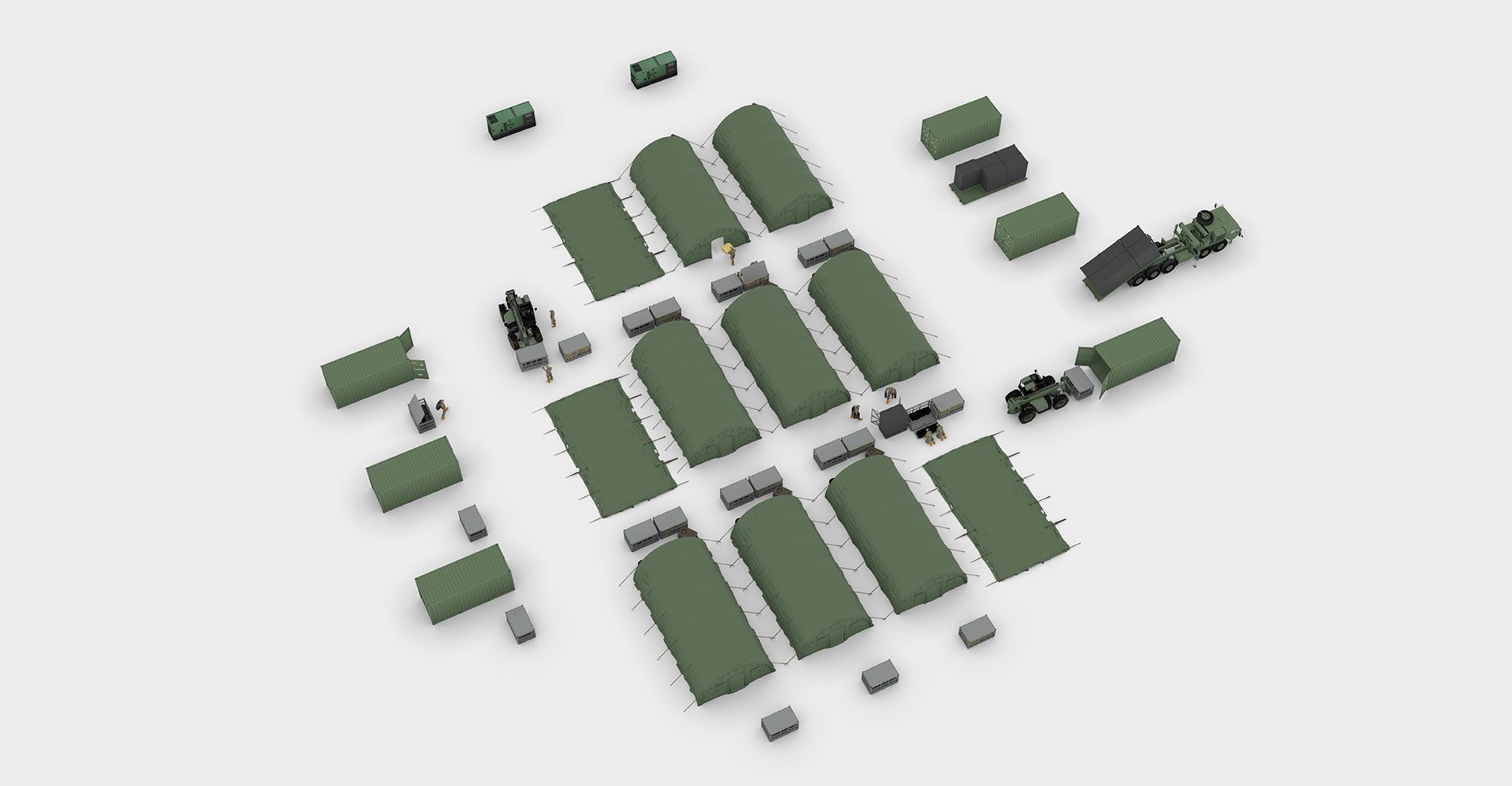 LEAN SETUP PROCEDURE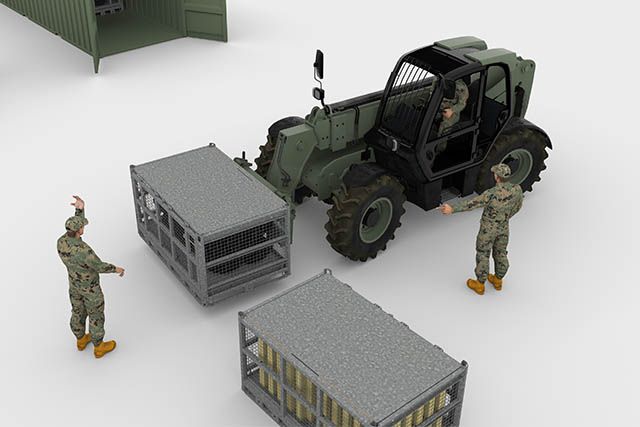 1. POSITION CONTAINERS AND cages
Position containers next to proposed module site, and the flat rack on the opposite side. Download and position TACTICAL BASKET XL with shelters and power generation. Minimal walking distance to get equipment ensures fast set-up.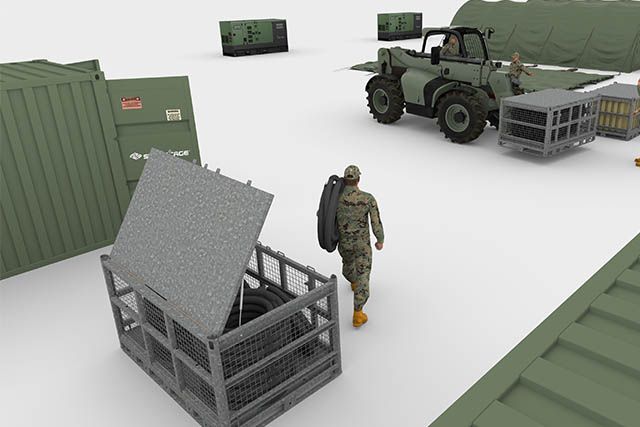 2. SHELTERS AND POWER DISTRIBUTION
Start setting up shelters directly from the TACTICAL BASKET XL while concurrently running cables from the cage with the power generator.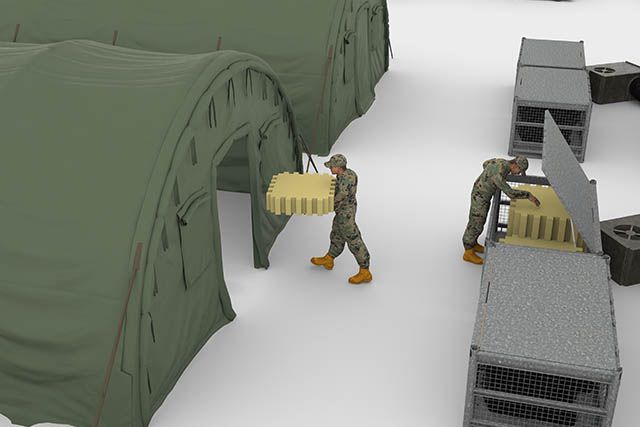 3. FLOORING, LIGHTS AND FURNITURE
When shelters are set up, install flooring. When flooring is installed, pull lights, then furniture and other equipment from the TACTICAL LOCKER MEDIUM.
LEAN BREAKDOWN PROCEDURE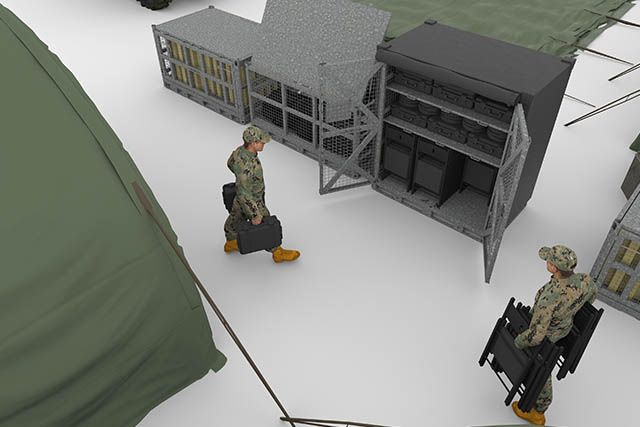 1. FLOORING, LIGHTS AND FURNITURE
Break down interiors and loose items according to packing list for each cage. When packing list is complete, close the cage to signal it is ready to be loaded.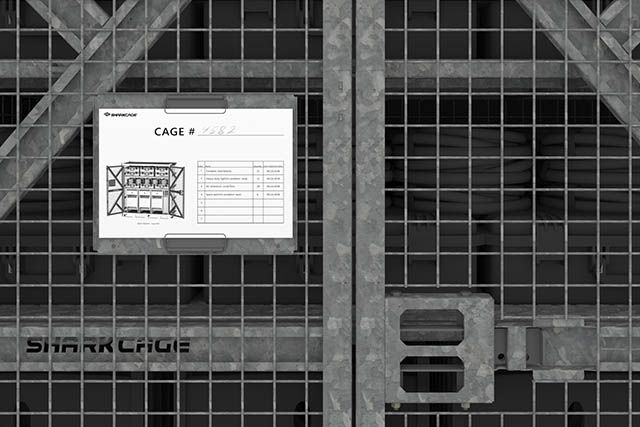 2. SHELTERS AND POWER DISTRIBUTION
Detailed packing lists show where to store the different parts in inside the cage and missing items are identified imediatly. Strap down and secure fragile equipment.
3. LOAD CAGES AND MOVE
Load cages according to set-up at the next location. This means loading broken down items first. Move the camp with a significantly reduced risk of leaving essential equipment behind.
CAMP OPERATIONS
Create efficient processes for operating the camp ensuring that necessary activities such as life support (feeding, lodging, and medical), material support (maintenance, power, and supply), and command & control occur concurrently without interference. Perform all this while still maintaining an "Always Ready" posture by being prepared to move at any time.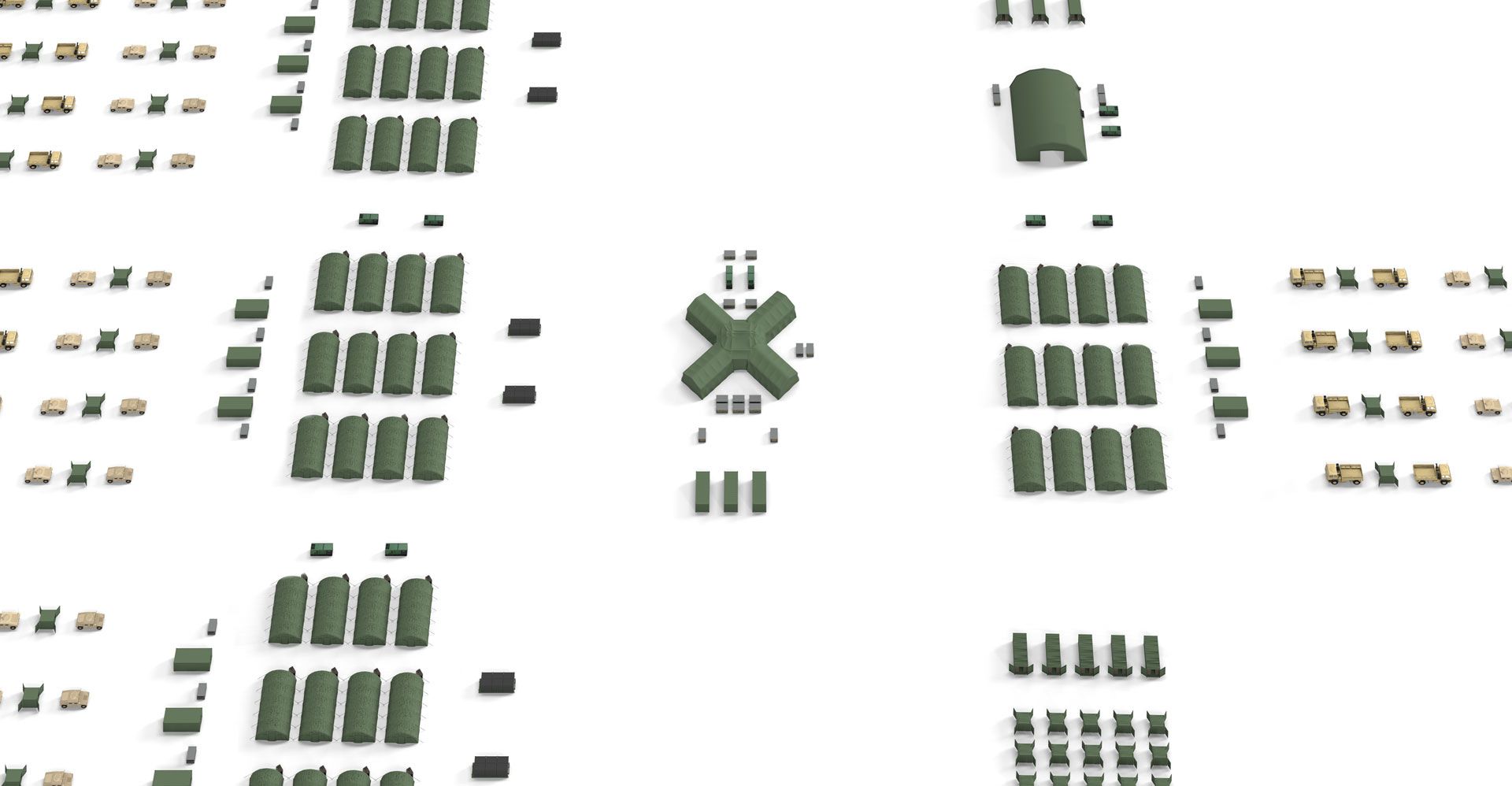 Operating directly out of the containers reduces setup time for some material categories to zero.
LEAN OPERATIONS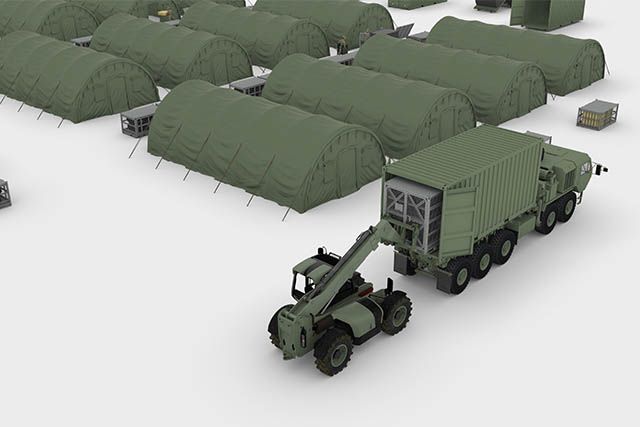 LOGISTIC RESUPLY
Logistics Packages (LOGPAK) are easily organized and packaged for distribution during resupply operations using SHARKCAGEs, reducing risk when outside of camp security and minimizing time spent performing the task.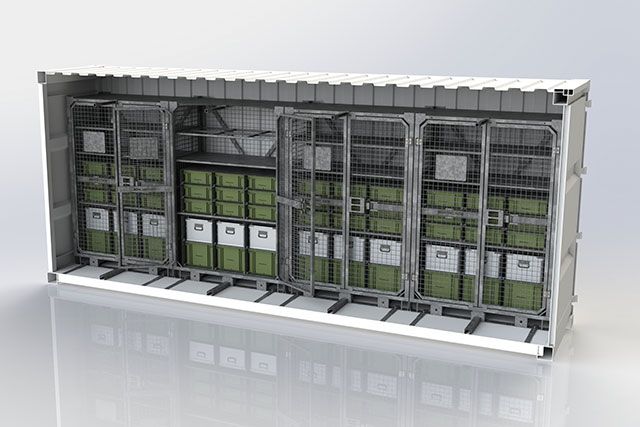 CLASS VIII MEDICAL STORAGE
Medical supplies are consumed regularly and require constant monitoring to ensure the required supplies are available. By using SHARKCAGEs inside 20' Containers, creating a mobile warehouse, supplies are monitored, and reconstitution can be anticipated while still having the flexibility to move as necessary.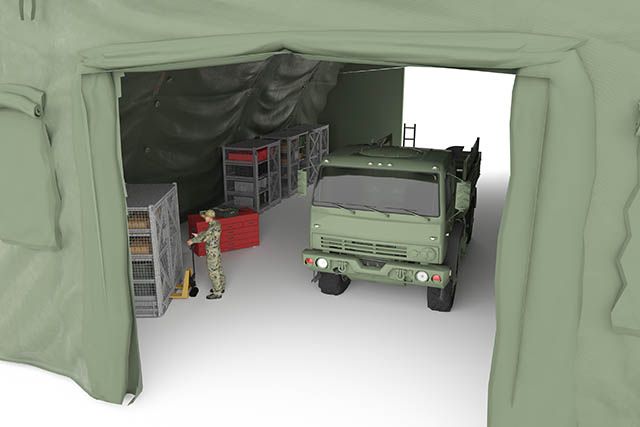 MAINTENANCE
Keeping our equipment functional and combat ready is paramount to successfully executing the mission so maintenance operations are performed in a manner that minimizes down time for equipment. By using SHARKCAGEs with POBs (Pull Out Boxes), tools, parts and equipment are organized and available for practicing lean maintenance and having the necessary material in the right place at the right time.
I rember being asked to get the whiteboard only to empty the entire container before finding it. I wish I had the SHARKCAGE then.
EXPERIENCES FROM THE FIELD